The latest version of Prosig's DATS software was released today and is available to download from the Prosig Support web pages. Read on to find out about some the new features…
Are you under pressure to do more testing in less time?
Here's the answer! Those users with the NVH option now benefit from a new high speed capture and analysis interface – RapidResults NVH. This new feature adds functionality that allows faster than ever capture, analysis & reporting as well as taking care of many common tasks when performing NVH tests. These include averaging multiple runs, different signal analysis groups, resultant signals from triax accels and much more. You'll find it in your DATS Apps bar.
Have you ever been stuck needing to do some tests that need engine or gearbox speed, but having no tacho input or transducer?
The new Graphical Speed Curve Reconstruct function solves this problem. The user is led through a process of identifying an order line graphically and a sophisticated adaptive multi-dimensional spectral tracking algorithm then produces an accurate speed curve for the data. Look for Reconstruct Speed Curve under Time Sampled Analysis in the Rotating Machinery section.
New Replay DPU
The new Replay DPU adds audio, GPS (with maps) and graphical replay of captured signals and CAN-bus data to worksheets. You can now review your tests and see graphs, hear audio, watch CAN-bus data and monitor vehicle location all on one screen in the worksheet environment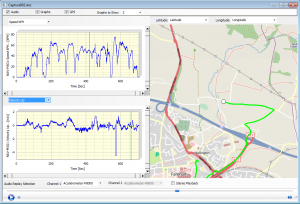 Enhancements & bug fixes
Added a rename option to signals in the explorer bar
Enhancements to the DATS Sound Mapping option
Fixes to scollbars on waterfall plots when plotting against orders
Fix to stop occasional blank windows when resizing
There are many more fixes & enhancements. Read about them in the release notes that accompany the update.
Registered users can visit http://www.prosig.com/support.html to download the update.
The following two tabs change content below.
Specialists in systems for acoustic and vibration measurement, analysis, and testing within the automotive, aerospace, defence, manufacturing, and power industries. The company designs and develops its own products and its engineers have decades of experience in solving real-world noise and vibration problems for major organizations throughout the world.