This post deals with automated data capture and analysis of data. It uses Prosig's DATS software and the worksheet environment it provides. The technique could be duplicated in other software if the necessary facilities and utilities are available.
The flexibility and creativity of DATS provide the user with unlimited possibilities to manage and analyse data, and create results and reports. A major feature of DATS is the Worksheet environment which is a visual tool for creating workflows for automating DATS processes. In this article, a specific worksheet is created to show how DATS can help increase efficiency and productivity by integrating data acquisition, analysis and reporting, with the operation from a single button.
In DATS, data acquisition can be an independent application to capture and save data. It also can be capsulized as a DATS Processing Unit (DPU) and integrated into a DATS workflow. The basic workflow below illustrates how a DATS worksheet encapsulates the whole process of data capture, processing and reporting together.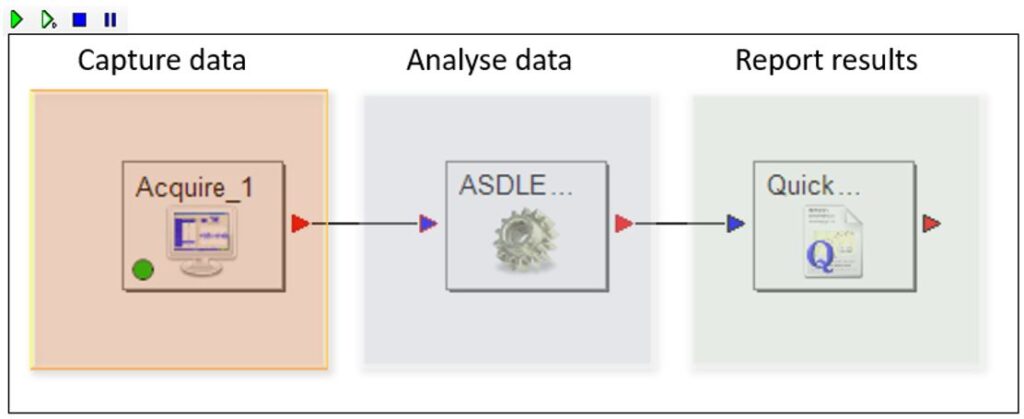 There could be thousands of various combinations to perform different jobs. Let's assume a slightly complicated application scenario as an example. An engineer needs to perform a standard routine test repeatedly. The sensors and locations to perform vibration and noise measurements on an object are fixed. Data is processed using a standard procedure, and the results are to be written into a report with a pre-defined template. In this case, the raw data and reports are to be saved into a folder with a specific naming format, in order to identify them later, such as date and time.
The worksheet below has been created to perform the requested functions automatically:
Perform the data acquisition with pre-defined acquisition and display setup.
Create a data folder to save signals captured.
Save data recorded with pre-specified name rules.
Run pre-defined analysis (For this case, the analysing functions chosen are waterfall, order processing and auto-spectrum density analysis)
Save results into the result folder.
Create an Intaglio report with a pre-designed template.
Combine all individual test reports into a final report covering all tests.
An initial form in the worksheet allows the user to input where to save the results, the number of runs and the location of the acquisition setup and display file before performing its routine task of capturing data, processing and reporting of the results.
The video below shows the worksheet in operation.
If the worksheet shown above looks a little complicated, DATS provides a grouping function that allows the user to simplify the worksheet to make it more logical and more easily understood. The DPUs that perform the same analysis process can be grouped together and displayed as one combined DPU. For example, the above process can be simplified as follows where the main analysing functions have been highlighted.
Finally, the whole process can be capsulized and defined as a single Custom User DPU for regular use. This customized DPU can be saved and transferred to other users or across systems as a bespoke function.
Prosig DATS software is a powerful engineering tool. It has huge potential to be explored. If you find any other DATS software usage or have any special requirements, please contact us.
Make sure you don't miss future posts. Sign up to our mailing list
The following two tabs change content below.
Dr Cindy (Xin) Wang
Applications Engineer
at
Prosig
Cindy has a BSc from the Dept of Jet Propulsion at Beijing University of Aeronautics and Astronautics, a Masters from the University of Sheffield in Mechanical Engineering and an MPhil/PhD from the University of Southampton for her thesis "Computational aeroacoustics of slat track system". Cindy has extensive experience working in Automotive and joined Prosig in 2019 as an Applications Engineer.
Latest posts by Dr Cindy (Xin) Wang (see all)