Vibration Condition Monitoring Doesn't Get More Mobile Than This!
|
Have you ever wondered if there is a vibration condition monitoring system that can be installed anywhere and then monitored from anywhere else? Even on your smartphone? Well, there is. The following article explains how Prosig's PROTOR-mobile vibration condition monitoring system can offer just such a solution.
Sometimes vibration issues are present on equipment that doesn't have a permanent condition monitoring system installed. So it is often necessary to install a temporary vibration monitoring solution. Prosig's PROTOR-mobile is ideal in these situations. The PROTOR-mobile can be quickly installed and configured and then left to monitor the problem. Obviously, there is often the need to enable remote access to the system. Commonly, the expert is not based on-site and it could be difficult (and expensive)  to keep visiting. PROTOR & PROTOR-mobile are well-suited to this and come with remote access as standard. However, it is usually not straightforward to connect to a facility's network.
In situations where either wired or wireless connections are not possible then one suitable method would be 3G. This provides a compact solution using widely available technology. Of course, you will need to check that the station will allow 3G devices in the area where the installation is to be performed.
Prosig recently configured just such a system to aid in monitoring a vibration problem at a steam turbine at a  power station. There are many ways to approach the 3G networking issue, but it was decided to use a wireless network router that supported a 3G SIM dongle. Once installed and configured the vibration levels could be monitored from any device with an internet connection.
One advantage of using a router to connect to the internet is that any number of network devices can be connected wired or wirelessly to the router. So, if required, we could monitor other devices on-site.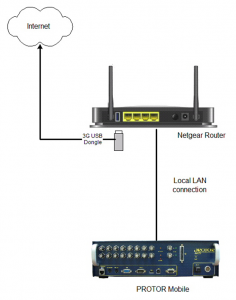 The wireless router used in this application was a Netgear Mobile Broadband Wireless-N Router, MBRN3000. This router was fitted with a USB 3G Internet dongle from Vodafone. This configuration was chosen because they were readily available. Other routers and 3G dongles could be used to meet the same goal.
Having connected the PROTOR-mobile to the internet we simply need to establish a static or semi-static IP address so that we can access the software via VNC or similar package. This can be easily done if the 3G dongle provides a static IP address. If not we can use one of  the Dynamic DNS (DDNS) services such as DynDNS, No-IP, FreeDNS etc. These services allow a device to register their IP address at startup and then provide a domain name that can be used to get to that IP (eg. mypc.dns-service.org). Unfortunately, the particular 3G dongle used for this application didn't provide a static IP address. To make things even more complicated, it couldn't be used with a DDNS service due to the proxy configuration of the 3G provider.
After a little head-scratching and some research a solution was found. By using one of Prosig's internet servers and some clever networking involving something called a reverse SSH tunnel, a reliable connection could be made between the PROTOR-mobile and any internet-connected device. This method actually brings an unexpected advantage. The first S in SSH stands for 'Secure'. In simple terms, secure shells (SSH) and SSH tunnels encrypt their network traffic. This makes the remote connection described here very secure. Further changes were made that ensured the tunnel was monitored and automatically re-established if it became disconnected for any reason (eg. loss of 3G signal or other internet disruption).  So, finally, we had a secure and robust connection.
Once all of this had been researched, tested and set-up, the real remote monitoring is actually very simple. All a remote user needs to do is connect a VNC Viewer client (freely available) using a URL that points to the Prosig server and port that has been configured. Then they have all the access and control that they would have were they sat in front of the remote monitoring system.
There are other advantages of PROTOR & PROTOR-mobile being based on open standards. For example, using VNC as the viewer of choice means that many platforms can be used to view the remote data since VNC viewers are available on many different devices. In fact, the vibration engineer who was involved in this project was even able to reach the remote PROTOR-mobile system on their iPhone. So even if you are on the other side of the world and nowhere near a computer, you can always check up on your PROTOR-mobile.
The following two tabs change content below.
PROTOR Product Manager
at
Prosig
Don Davies graduated from the Institute of Sound and Vibration Research (ISVR) at Southampton University in 1979. Don specialises in the capture and analysis of vibration data from rotating machines such as power station turbine generators. He developed and is the Product Manager for PROTOR. Don is a member of the British Computer Society.
Latest posts by Don Davies (see all)